Recycle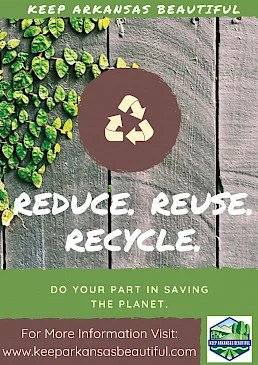 Want to learn more about recycling in your community? Recycling can be one of the best things you can do for the environment and your town. The Arkansas Department of Environmental Quality (ADEQ) offers a variety of programs to aid in municipal waste reduction, including grants and assistance for recycling programs.
More Arkansans are recycling today than ever before. The Arkansas recycling rate and the benefits to the state from recycling continue to increase. Arkansas recycled 2.8 million tons, or 45.5%, of its waste in 2015.
When businesses join with communities, recycling efforts can really make a difference. ADEQ offers a variety of programs to help businesses with their recycling efforts. Find out what you can recycle in your area by connecting with your Regional Solid Waste Management District.
Recycling Programs
America Recycles Day is a national all-volunteer, nonprofit organization that encourages Americans to recycle and to buy recycled products. Last year, residents in every state of the nation participated in America Recycles Day and pledged to recycle.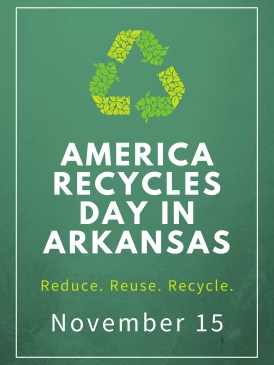 Ace Glass: With several drop off locations and residential pickup available in and around the Little Rock area, thanks to Ace Glass, recycling glass just got a whole lot easier. Are your glass items are recyclable? Check out the Ace Glass Recycling Guide. For Residential Pickup information click here: https://www.aceglassrecycling.net/residential/ For Free Drop Off Locations in Central Arkansas click here: https://www.aceglassrecycling.net/drop-off-locations/ Not from or near the Little Rock area? Save your recyclable glass items and bring them to any Ace Glass drop off location next time you're traveling to the metro area.
EnviroSmart Inkjet Recycling can design a free recycling program that is beneficial to your organization by providing free collection materials and paying for recyclable inkjet cartridges received from your organization.
InkGuides.com helps consumers reduce their printing costs while minimizing their environmental impact by offering tips on cartridge recycling, comparing prices of refurbished cartridges and offering recycling services.
Media Resources
I Want to be Recycled Campaign – Print PSAs (B/W)
I Want to be Recycled Campaign – Print PSAs (Color)
For a List of Helpful Recycling Links, Click HERE.
.